Edible Ink Printers can be an exciting and valuable addition to your sweet making business. They do, however, require regular maintenance and patience to troubleshoot any issues should they arise. With this in mind, we urge you to consider this before purchasing your edible ink printer.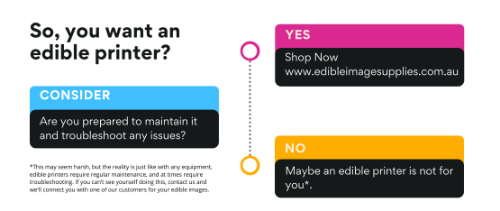 At Edible Image Supplies, we offer comprehensive online assistance via our FAQ's, blogs and Edible Insights manuals. These should always be your first port of call if you are having printer issues.
Should you need to contact us, it is our policy to firstly work through the troubleshooting with you to see if it can be resolved, in the same way, you would troubleshoot any error in your standard ink printer.
We appreciate being notified by you as soon as you think there is a problem with your printing system. This affords the greatest chance of a successful outcome.
If there is a fault with your EIS printer you can be comforted by the fact that our printing systems come with a 12-month warranty. This warranty is provided by Edible Image Supplies NOT Canon, as you are using Edible Image Supplies edible ink.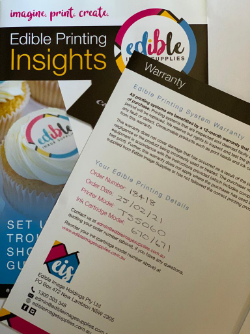 We do request that you familiarise yourself with our terms and conditions. This is especially worth reviewing if you are new to purchasing an edible ink printer.
Our Terms and Conditions state (see website for detailed T's& C's):
Any damage or defect pertaining to a product, including a printing system, before it is used needs to be communicated to Edible Image Supplies within seven (7) days of delivery of the product.
All printing systems are benefitted from a 12-month warranty that commences on the date of purchase.
We reserve our rights to inspect and test the goods before confirming any fault or defect. As we are an online business, we will ask for photographs or videos.
Consumable products such as print heads and ink cartridges are specifically excluded from this warranty.
This warranty does not cover damage that has occurred as a result of the purchaser's negligence or the product being incorrectly used or treated.
The purchaser must use the equipment in accordance with the instructions provided (which include completing a weekly test print). NOTE: Refer to our Edible Insights booklet for our required maintenance schedule.
Further, this warranty does not apply where the purchaser has used inks not supplied from Edible Image Supplies or has not followed the correct printing procedure.
NOTE: Edible Image Supplies ink must be used for the duration of the warranty period, otherwise the warranty is void.
For all the non-edible aspects of troubleshooting for your printer, download your printer manual directly from the Canon website.