From her passion for baking as a child Paige Beriman, Sweet Spot Cakery, honed and developed her sweet making skills into a full-time profession that provided her with the income and flexibility she needed as a sole parent.
1. How did your sweets business or journey begin?
I have been baking since I was about 8 years old and making cakes for friends and family for years. I am totally self-taught which has been an adventure. Being the sole parent of three children meant I needed job flexibility, so I took the leap into cakes and sweet treats back in 2017 when my oldest was 13 and my twins were 8.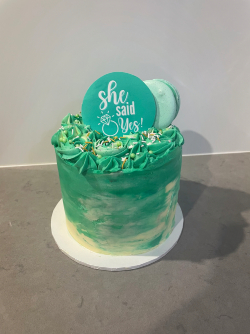 2. What has starting your own business meant for you?
Having my own business has given me the flexibility to be Mum to my three children, attending their events and allowing them to see first-hand that hard work pays off. It has also allowed me to be involved in the celebrations and special moments of many people which is an incredible honour.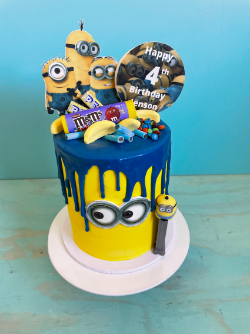 3. What have been/are the biggest challenges you face(d) in regard to starting/building/maintaining your business?
The events of the past two years have added a massive strain to the business, as it has for so many others. Hospitality venues closing and homes being allowed only limited visitors meant we have made a lot more small cakes and cupcakes than ever before and the wedding cakes we love so much became non-existent for a while.
We recently moved to Deniliquin, a town about an hour away from where I was born and bred, and where the business started. Re-establishing the business up here has been challenging without the social contacts and support we had initially, but the community is great and we are getting there slowly.
4. What do you feel are the benefits of using edible images?
I feel they give me greater flexibility for detailed images that I couldn't achieve with fondant alone. I also love that it gives me the ability to use a customer's corporate logo and colours to ensure continuity across their branding.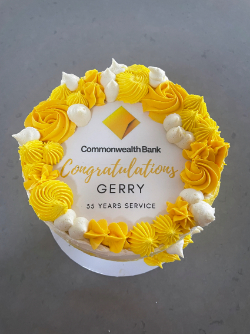 5. What is your favourite type of treat/design to create?
That's like asking which is my favourite child! I love wedding cakes, cupcakes and doughnuts best. And at the moment, I'm loving working on coloured wedding cakes and anything with wafer paper sails.
6. What is the current trend you're seeing in edible images?
With restrictions and food handling changes in recent times, personalised edible image cupcake or cookie toppers have taken off again recently. Where once a family could have taken homemade goods for birthdays at kinder or school, now we are being asked to provide these with fun toppers in individual packaging.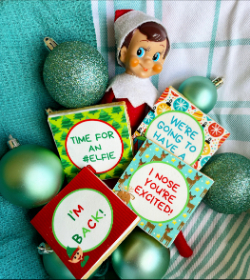 7. What is the funniest/most unusual sweet creation you've been asked to make?
The first one that comes to mind was a cake that needed to look like a cartoon pineapple but be chocolate cake in the middle due to a personal joke the customer had running. I've also got a customer whose son designs his own edible print for his cake each year. Last year he photoshopped his face onto a kangaroo!
8. Do you have any tips you can share when either printing or applying edible images?
Don't be afraid to use your edible printer for other printing within your business such as invoices or cake cutting guides (ie print using edible ink onto plain paper). It keeps the print head flowing well. My first printer lasted me four years and I only replaced it due to damage sustained during moving my studio!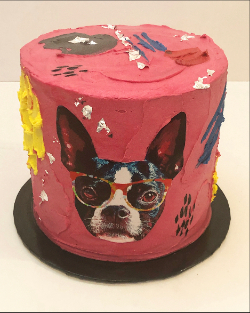 9. What is your "can't live without" sweet making tool?
My turntable. I got myself an Ateco one a few years back and absolutely love how smooth and strong it is. I know it's boring but I remember trying to decorate before I had one and it was hard work.
10. What do you do for yourself within your life and business to help avoid or alleviate burnout?
I book weekends off. I didn't do this at the beginning of my business and was constantly exhausted. I study in a different field a couple of days a week, so I have something to focus on outside of cakes and my business so I maintain some balance.
11. What is your career highlight to date?
I've had a few that stand out. Late 2021, I was part of a photoshoot with Wandering Capri that was featured on the Green Wedding Shoes blog which was an incredible achievement. And just this month, I was asked to replicate Queen Elizabeth II's Jubilee Cake and create 20, 6" cakes for a local International Women's Day event. Each table had its own cake with an edible image on the top.
Optional:
Are there any other EIS products you enjoy using on a regular basis?
I absolutely love the Wonder Transfer Sheets. I don't have the opportunity to use them as often as I would like but love using them for both chocolate and meringue kisses. I just have to remind myself to mirror the image, so the images don't end up back to front.