As the name suggests, Wonder Transfer Sheets are "wonderful". Their versatility means that you can now use the one type of edible transfer sheet to decorate your chocolate, isomalt and meringue creations. They pretty much can be used with any edible medium that starts out warm and sets to be solid - so let's add gelatin and marshmallow to that list!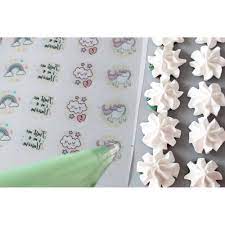 The heat from the decorating medium cools on the transfer sheet and pulls just the image with no backing off. This creates stunning effects and makes them a must-have for custom chocolate, meringue or isomalt decorations. They also work well with chocolate pralines, marshmallows and gelatin.
The beauty of the Wonder Transfer Sheets is that they dry translucent so that your clear medium remains that way. Making them ideal for interesting isomalt creations and lollipops.
These sheets won't affect the taste of your sweet creation and also smoothly adhere to any chocolate medium.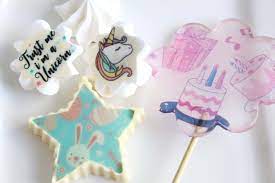 Compatible with your edible inks and edible ink printer, they move through your printer just like regular paper or icing sheets. The only thing to remember is that they are a transfer, therefore, you need to "mirror" your image before printing (or t-shirt transfer on some printers)
With "Wonder Transfer Sheets" in your arsenal, the sky is the limit for your sweet treat creations!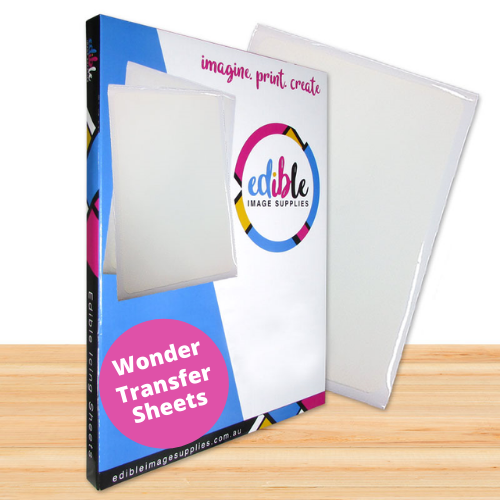 Quick Tips for using Wonder Transfer Sheets with Chocolate, Isomalt & Meringue:
Using "mirror printing", print your design/pattern onto the transfer sheets with your edible ink printer.
Allow the transfer sheet to dry for at least 20 minutes (darker colours may require longer).
Place printed wonder transfer sheet on a baking tray with the print side up.
Pipe on meringue or spread or pipe chocolate* gently over the surface. For isomalt, just pour the hot isomalt over the transfer sheet, ensuring an even thickness.
Cook meringue as per recipe instructions. Set the chocolate in the fridge. Allow isomalt to set.
Remove transfer sheets from meringue as soon as they are removed from the oven. Peel the transfer sheet from chocolate and isomalt once they are set.
*Always temper your chocolate first.

Photo Credit:
Image 1 & 2 - Planet Gateau
Image 3 - Edible Image Supplies